Window Decals
At A Glance
Pre-Colored Vinyl Variety

Perforated View Through Vinyl
Full Color Printed Window Decals

Static Cling Window Decals

Translucent Decals For LightBoxes
Logos & Hours Of Operation Decals

Safety Glass Coverings & Decals

Vehicle Window Decals For Advertising

Double Sided Decals For Windows
Indoor Window Decals

⦿ Office Environment Partitions
⦿ Inner Office Glass Walls
⦿ Retail Window Advertising Decals
⦿ Both Permanent and Removable Window Decals
Exterior Window Decals

⦿ Cars, Trucks & Emergency Vehicle Window Decals
⦿ Entrance Warnings Decals
⦿ Retail & Office Logo & Hours Decals
⦿ Monument Signs With Glass Sections
Experimental Window Decals

⦿ Building Wrap Window Decals
⦿ Now Leasing Window Decals
⦿ Arenas & Sporting Events Decals
⦿ Multi-Floor Specific Window Advertising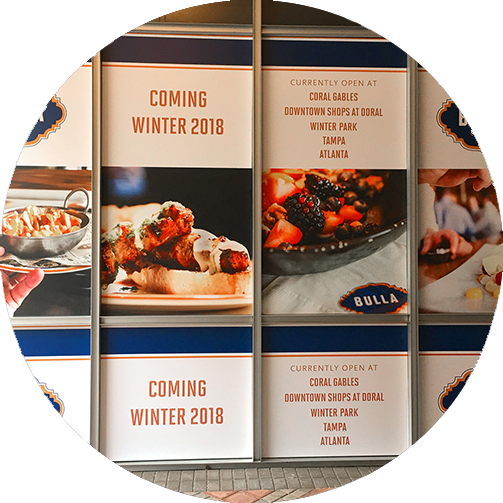 Window Decals and Graphics in Charlotte NC
Enhance Visitor Experience With Engaging Window Spaces!
This goes for indoor and outdoor spaces. Window Decals and Graphics have come a long way in recent years. Today, products exist for just about any purpose. That means, you can get short term easy to remove decals, long term hard to vandalize decals, see through decals, and many other options.
It's important to have a provider that understands what actually looks good on the windows though. Be creative with what you put on you window decals, because it is a chance to plan and really drive brand recognition or specific actions you wish people to take. Vision Print Solutions can help you with that.
Partner With Us For Window Decals
Your Window Decals Will Engage Your Audience!
We Match Correct Materials to the Application

We Produce High Definition Printing

We Never Print Without Verifying Sizing is Correct

We Never Print Until We Verify Artwork Is High Quality
Fast Turn-Around Times

We Offer Installation

Design Services Are Available

Samples Available Upon Request
We are here to help, however we can: Help with files, with graphics, with products. Please call or fill out the form to reach us. Thank you!