Outdoor Signs
At A Glance
Mesh Banners For Construction Site Fencing
Monument Signs & Sign Boxes

Flags, Banners & Tent Graphics

A-Frame Sandwich Board Signs
Architectural Signs

⦿ Commercial and Community Identification Signs
⦿ Building and Store Signage
⦿ Brick Signs, Lighted Signs, Sign Foam Signs
⦿ We help with permitting and regulatory needs
Construction Signs

⦿ Construction Site Fencing Signage
⦿ Post and Panel Single, Double and Triangle Sided
⦿ Safety and Government Posters and Displays
⦿ Barricade Window and Wall Signage
Outdoor Displays

⦿ Parks and Recreation Signage
⦿ Amusement Park Signage
⦿ Concerts and Events Signage
⦿ Concrete Wraps, Street Signs, Elevator Signs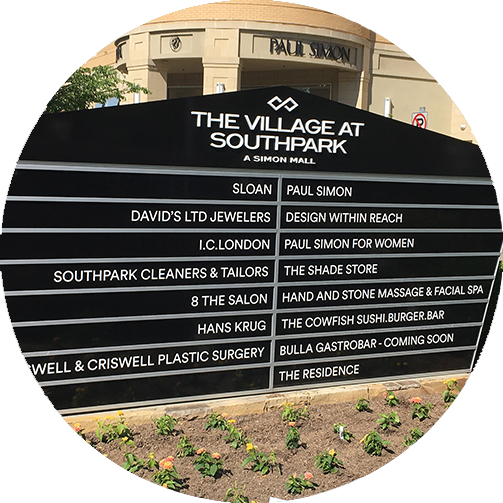 Outdoor Signs In Charlotte NC
All Businesses Benefit From Great Outdoor Signs
When it comes to outdoor signs there is a lot to choose from. Do you need long term signs, or is it just for a weekend event? Do you need a permit? How will you install it? Because of these and even more complexities, we've committed to making the experience for our clients as simple as possible. You just want great signage, and we can deliver!
Our experience is in simple outdoor window graphics to large electrical channel letters. So if you have something in mind we can most likely help. We have experience with architectural signs, sign boxes, outdoor banners, brick wall signage, and many more. Click here to see some recent samples.
Need An Outdoor Sign?
Let us create a show stopper for you.
We Match Correct Materials to the Application

We Produce High Definition Printing

We Never Print Without Verifying Sizing is Correct

We Never Print Until We Verify Artwork Is High Quality
Fast Turn-Around Times

We Offer Installation

Design Services Are Available

Samples Available Upon Request
We are here to help, however we can: Help with files, with graphics, with products. Please call or fill out the form to reach us. Thank you!