Wall Murals & Graphics
Charlotte NC
We produce a variety of Wall Murals and Graphics for companies in Charlotte and around the Carolinas.
If you have an empty space and need to increase brand awareness, what better way than to transform that empty space into an opportunity for engagement?
Customers really enjoy friendly graphics and proper branding is proven to increase sales.
We create wall murals that are both permanent and short term removable. So no matter what your situation is, you can take advantage of these products that suit your needs.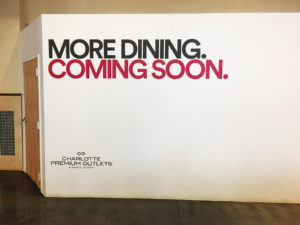 Visit our Wall Mural and Graphics Page to learn more about what we can do.
Or visit our Sign Job Portfolio for more ideas.
Do you have a idea for Wall Murals and Graphics? We're more than ready for the challenge. Contact Us Now!