Charlotte NC Sign Company
28 Years Of Experience
Full Service Sign Company
We have grown into a full service Sign Company in Charlotte NC that designs, prints and installs all around the Carolinas.
We have been in business for over 28 years. We started in the small format printing area focusing on Envelope Printing. We grew over the years to handle just about any type of printing and eventually moving into large format signage and printing.
We have a large facility with room to grow. We invite customers to come see what all we can do. You can check out our new Wide Format Printer and Wide Format Router. We are making custom signage and decor for businesses all around Charlotte and the Carolinas.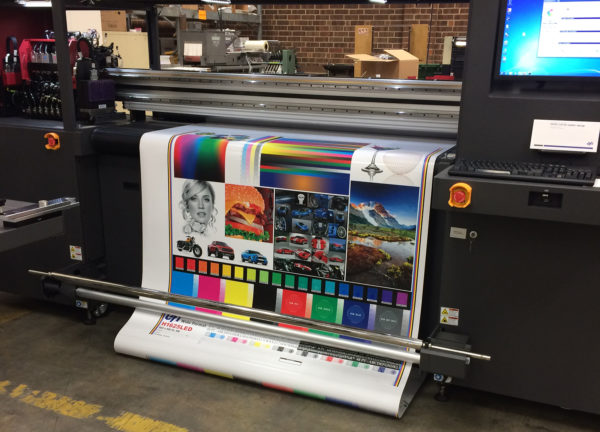 Sign Company in Charlotte NC
Wide Format Printing Services
We run a full service Sign Company in Charlotte NC.
At the core of what we do is wide format printing. There are several types of technologies or machines depending on what a customer needs.
Flatbed Printing is one type. This printer allows us to print directly to boards and materials thicker than paper. Skipping the need to print on paper or decals first. Come meet our Flatbed EFI H1625 Printer, it's pretty cool!
Digital Routing we have a full size routing table in house. A Colex Router that cuts all sorts of graphics out from paper thing decals to boards and light metals. This takes your graphics to a new level of creativity and depth.
Latex Printing is a special set of ink types that are eco friendly. These inks dry instantly and are used to print on a variety of materials. Like, vinyl banner material, canvas material, window see through perforation, window clings and more.
Dye-Sub Printing allows us to print onto fabric materials for a more exotic product our customers love. This is great for fabric banners, flags, backdrops, apparel and more.
Laminating Services In addition to printing great products for our customers, we also have the ability to laminate our products for extra protection. This is helpful for signage facing harsh weather and environments.
Sign Installation Services
What makes us a full service Sign Company in Charlotte NC, is the fact we take on the project from conception to installation.
Making the sign products is sometimes only half the job. Many times our customers need installation services. Sometimes this is a simple procedure and sometimes requires special zoning from a municipality. It always helpful for our customers to factor in time for installation depending on their needed date for the signage and graphics.
Vinyl Banner Installation can be done flat on brick walls, in the middle of a field, or along a fence for example. Each type requires different hardware. Screws for concrete, poles for grass insertion or heavy duty zip ties for fencing.
Construction Site Signage is typically when a construction site need a large sign posted to the property site. It may show the finished product image and or give pertinent information to the public. Wooden posts are usually buried and then sign boards are attached to the posts. These can be highly customized or left basic.
Window Decals  have a few types of materials. Some are opaque and some are more translucent. When we install these we make sure the glass is very clean free of grease. We then squeegee large panels of graphics to create a mural of images.
Building Signage requires a permit unless it is already permitted. Sometimes we just change the image out and are not replacing the entire structure. If the sign is to be lit up there will need to be proper electric brought to the location which requires a separate electric permit. We usually install these with a two man team using a truck lift or scissor lift equipment.
Lobby Signage entails a customer showcasing their logo usually in some dimensional fashion at their office entrance. We create the sign our of cut dimensional letters and then fasten them to the wall using various methods. Sometimes we use stand off hardware to lift the sign off the wall.
We Partner With Industry Leaders
Vision Print Solutions has chosen key partners over the years, that allow us to take great care of our customers.
This includes Machinery/Equipment, Materials, Software, Tools and more.
Machinery we've partnered with:
EFI makes amazing Printing Machines
Colex manufactures Digital Routers and Cutters
Graphtec is an industry leader in Plotters and Vinyl Vutters
Seal is an industry leader in Laminating Machines
Materials we've partnered with:
3M Vinyl, Colored Vinyl, Laminates, and Frosted Materials
Oracal Vinyl, Colored Vinyl, Laminates, and Frosted Materials
Avery Vinyl, Colored Vinyl, Laminates, and Frosted Materials
Software Companies we've partnered with:
EFI Rip Software
Colex Cutting Software
Adobe Creative Suite
Let us hear from you. Tell us about your project needs and we will make it happen.